NEW
Hydra-Essentiel Moisturizing Reviving Eye Mask
A hydrating eye mask with a cooling effect
Use
In the morning and/or evening as an express mask, as needed. Once or twice a week as an overnight mask.
Clarins +
A product with a unique feel that adheres to the eye contour perfectly, even during the night.
30 ml
A super-hydrating cooling mask for fresh and revived eyes in just 10 minutes. The mask has a cream-gel texture and a cooling formula to reduce signs of dehydration and fatigue for instantly brighter-looking eyes. Contains organic leaf of life to boost skin's ability to retain moisture, as well as Irish moss which soothes the skin, and horse chestnut which boosts radiance.
Discover our express multi-masking routines
10'
Get glowing in 10 minutes.
OR
8h
An intensive overnight mask.

Hydra-Essentiel Moisturizing Reviving Eye Mask
Hydrating

Routine

Say goodbye to tightness and fine lines from dehydration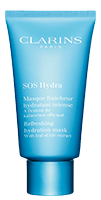 SOS Hydra Face Mask
Clarins tip
Keep it cool! If you want to boost its benefits, keep your SOS Hydra Mask in the fridge for an even more refreshing and soothing effect.
Purifying

Routine

Purified skin and radiant eyes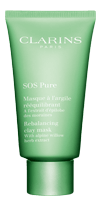 SOS Pure Face Mask
Clarins tip
Rinse off SOS Pure Mask with cold water to leave skin feeling even more refreshed.
Nourishing

Routine

Velvety skin and comforted eyes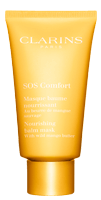 SOS Comfort Face Mask
Clarins tip
To up its nourishing game, press SOS Comfort Mask into your skin, leave it on all night and wake up in the morning looking radiant with great skin.
Anti-Ageing

Routine

A relaxed face and energised eyes

Extra-Firming Mask
Pure pleasure in a jar
Clarins Research brings innovation with an original mauve-coloured texture that stimulates the senses.
Upon application, it provides an ultra-fresh feeling with a soothing, comforting scent that helps the face relax.