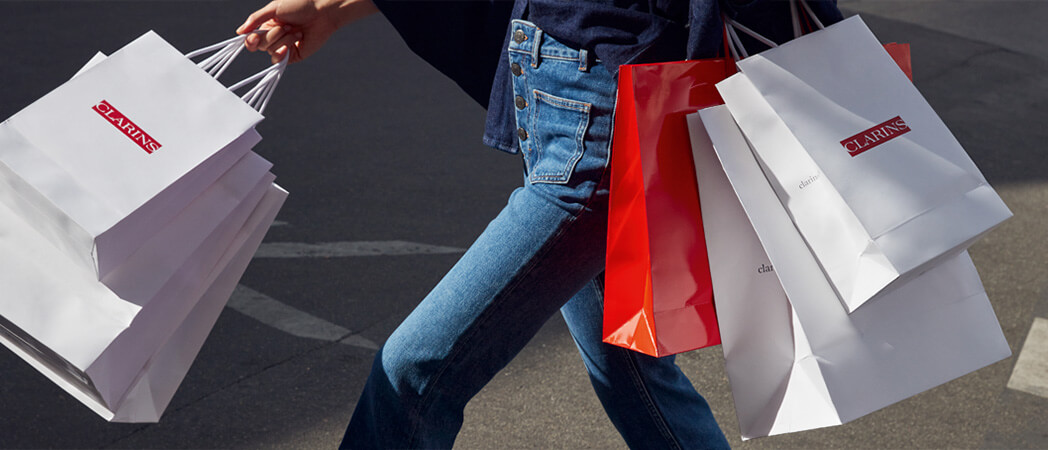 Save the date:
Monday 27th November 2023
Cyber Monday 2023
Coming soon!
Check back on the 20th November 2023 to find out what incredible Cyber Monday skin care, body and makeup deals we've got in store for you this year, whether that's for yourself or a loved one.
When and what is Cyber Monday?
Originating in the US, Cyber Monday is the first Monday after Thanksgiving and Black Friday.

As one of the most important e-commerce events of the annual sales calendar, Cyber Monday dates back to 2005 and refers to the website traffic peaks following Thanksgiving weekend. Due to the increased online traffic as consumers began their Christmas shopping online, brands were quick to jump on board by offering discounts and sales to help boost online sales.

Like Black Friday, Cyber Monday is a time of limited edition offers, discounts and quick deals.

So, why not make a start on your Christmas shopping and your own wishlist and make the most of our best Cyber Monday deals at Clarins?
When is Clarins' Cyber Monday 2023?
The Cyber Monday date for Clarins is on the Monday 27th November 2023. We strongly recommend signing up to our newsletter to make sure you don't miss out on our incredible Cyber Monday sales. Once they're gone, they're gone.
Which Cyber Monday deals will I find on the day?
During the highly anticipated Cyber Monday event, you have a chance to seize remarkable savings on our highly coveted cult favourites. Shop our award-winning natural skincare, body care and top-rated beauty essentials, we proudly showcase an extensive range of moisturisers, serums and makeup products.

This is a perfect opportunity to indulge in our outstanding selection to elevate your beauty routine, address your skin concerns and above all treat yourself, with remarkable discounts.
Is Cyber Monday better than Black Friday?
Black Friday vs Cyber Monday, you may be wondering which is better of the two days? Both offer great body care, skincare and makeup discounts on our cult favourites. The extent of our discounts may vary, so we recommend checking back on the 20th November 2023 for a full breakdown of our products.

No matter what day you decide to shop, you are sure to find the best Black Friday and Cyber Monday deals at Clarins UK.

Sign up to our newsletter
*Required fields
Can't wait?
If you can't wait for our Black Friday beauty sales, start shopping now for our latest collections, best sellers and new products.