Skin Spa
Never lose touch of what really matters. With over half a century's experience, you can trust that your skin is in the hands of an expert. Choose from 14 treatments that include Bespoke Facials and Massages for smooth, refreshed and glowing skin.
Filter
TREATMENT CATEGORY
SKIN EXPERT TREATMENTS
FEEL GOOD TREATMENTS
Bespoke treatments
Enjoy a moment of relaxation that perfectly meets your needs. A Clarins expert beauty therapist will conduct an in-depth diagnosis, select personalised products for you and perform tailored manual techniques for maximum effectiveness. Your treatment is unique, just like you.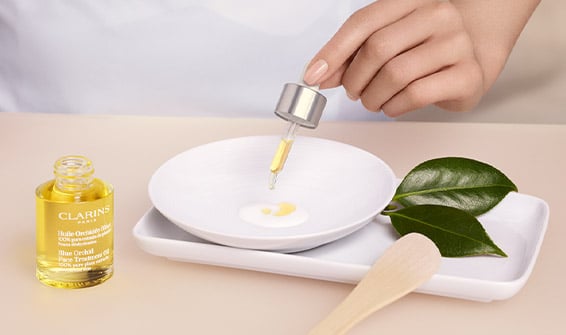 Have a question?
1.

HOW EARLY DO I NEED TO ARRIVE FOR MY APPOINTMENT?

Please arrive at least 15 minutes prior to your scheduled appointment time. This will give you a chance to prepare yourself, relax, and then fully experience all the benefits of your treatment. This will also give us enough time to determine what your specific needs are on the day of your treatment.
2.

WHAT SHOULD I WEAR?

You may wear whatever you like.
3.

WILL I NEED TO UNDRESS COMPLETELY DURING THE TREATMENT?

For most treatments, you'll be asked to remove some items of clothing and for body treatments we will provide you with disposable underwear. Your comfort is our number one priority, you will always be cocooned in white towels preserving your modesty.
Where to find us
Discover some of the best independent spas and skincare salons in the UK and Ireland to experience a blissful moment of well-being.