Clarins Self-Tanners
HOW TO
QUICKLY?
Bronzed skin, without the beach holiday!


The quickest way to break the chains of winter and get our bodies prepped for longer sunny days is to gently dial up the tan, and in short order. There's nothing better to lift the spirits before summer than showing off your legs with a golden tone, taking off your jumper and cardigan to find arms with a light tan, and sporting the prettiest grin on your radiant face with a hint of bronze. No more pale, dull winter skin!
There's a whole line of skin-caressing Clarins self-tanning products that care for your skin:
Radiance-Plus Golden Glow Booster Body - self tanning drops which can be mixed with any Clarins skin care product to give your skin a radiant glow.
Milky Lotion - a lightweight lotion with fig extract & aloe vera for your face and body, which easily absords into your skin.
Instant Gel - an ultra-fast tanning lotion which comes in a streak-free, natural golden colour for an instant glow.
Find the right product for you by speaking to one of our beauty coaches via our Virtual Boutique.
01
How do self-tanners work?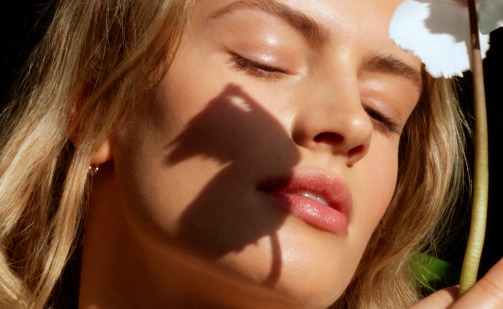 How do you get a natural glow or a tropical tan without sunbathing? Depending on your preference, you can achieve a beautiful sun-kissed look or look like you just returned from holiday. When you apply a self-tanner, a molecule named DHA meets the skin's amino acids and makes it darker. Clarins blends it with erythrulose in all its products to ensure even colour. This combination ensures an even sun-free glow. Always remember that self-tanning products, whether in capsule or topical form, do not provide any protection from the sun. Melanin is what protects our skin from UV rays. But you absolutely must save your sun capital and strengthen this natural protection with an anti-UVA and anti-UVB sunscreen.
Try not to use monoi oil or low-SPF tanning oils.

Clarins Laboratories has developed a wide range of sun protection products that give you a great tan and offer an array of SPF levels to suit every type of skin.

These products include:
These are all lightweight products with a soft sunny holiday fragrance that will take your tan to the next level. Self-tanners give you a healthy glow without soaking in the benefits of the sun, such as Vitamin D and endorphins. However, nothing can replace the great mood you get from sunbathing!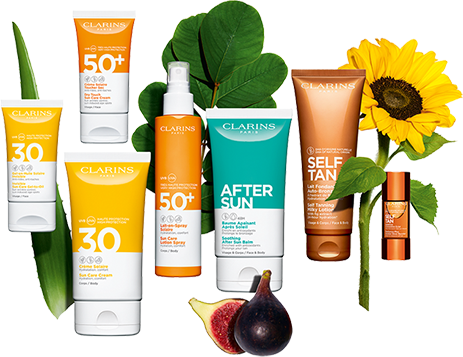 02
Why exfoliate your skin before using a self-tanner?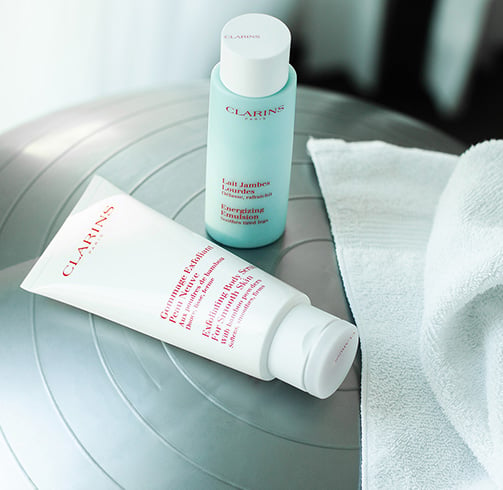 The best way to make your tan last longer and look better is to exfoliate your body with Exfoliating Body Scrub For Smooth Skin prior to applying any type of self-tanning product. It contains exfoliating bamboo powder, skin-cleansing moringa extract, plus nourishing shea oil to make your skin totally soft, smooth, and renewed. This scrub polishes and softens the epidermis by eliminating impurities and dead skin cells. It stimulates skin cell renewal and helps diminish the look of flaky skin.
How to exfoliate your skin
Massage the scrub onto damp or dry skin 1‑2 times per week, concentrating on rough areas such as elbows, knees, feet and thighs.
Rinse thoroughly to ensure the scrub is removed.
Your skin is resilient, infinitely softer to the touch, and ready to absorb any self-tanning products afterwards.
For your face, use Gentle Peeling Smooth Away Cream twice per week. This peeling cream is formulated with soothing primrose extract to gently eliminate dead skin cells and impurities without microbeads. It leaves the skin soft, smooth and radiant. A simple way to reveal instantly beautiful skin – even for the most sensitive skin types. Your face is radiant and all prepped for a flawless tan.
03
Why moisturise your skin before applying a self-tanner?
After exfoliating your face to remove as many dead cells as possible, you should hydrate the skin to extend the glow. A well moisturised complexion will be that much more luminous and even.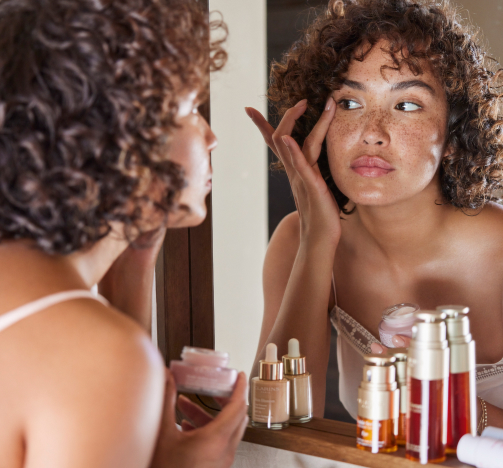 1. Apply the quenching moisturiser! Hydra Essentiel cream deeply hydrates normal to dry skin. Enriched with organic leaf of life extract, it activates the skin's self-hydrating process. Your perfectly moisturised face no longer feels tight and looks fresh and radiant. Your skin is soft and supple, plus it's ready for a self-tanning beauty boost. Clarins moisturisers have something for everyone, regardless of your age or skin type. Routines that include ultra-hydrating serum boost and multiply the benefits of your cream. Be sure to nourish your skin day and night before applying a self-tanner. The same goes for the body.
2. Exfoliate and moisturise! Moisture-Rich Body Lotion is the perfect hydrator for the job. It gently soothes and nourishes the skin. This body lotion deeply moisturises and visibly smooths your skin for that irresistibly silky softness. It relies on plant extracts like shea butter, organic raspberry water, and bitter orange wax to leave you visibly more beautiful and younger looking. Your radiant, softened, and invigorated skin is all set for its tan!
04
How do I choose the right self-tanner?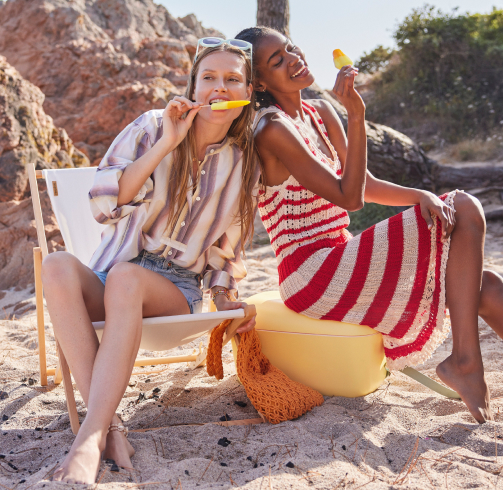 Clarins offers many different self-tanning textures suited for everyone's type of skin and preference. Take a look at our range of products and choose by whether you want the results to be more or less gradual and how much melatonin your skin tone has.
But whichever the texture you choose, remember that your tan won't last more than five days. The tan will slowly fade every time you wash your skin. All the textures feel luxurious on the skin and give it an irresistibly golden glow. You'll love Clarins Radiance-Plus Golden Glow Booster Body, Instant Gel or Milky Lotion as you smooth it on from head to toe! Get a sun-kissed hue for face and body without stepping foot on the beach or exposing your nose to the sun! Add a few drops to your Clarins facial product for a healthy glow all year round, a non-greasy lightweight gel that's barely there for an intense tan in an instant, or a delectably creamy melting lotion that hydrates for 24 hours to bronze, moisturise and gently scent your skin with the smell of summer any time of year!
05
Which self-tanner can I use on my face?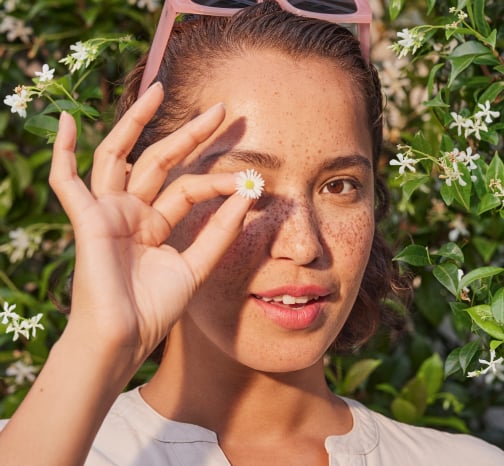 All of Clarins self-tanner products will give you a flawless tan, whether you choose the non-greasy Instant Gel, for immediate results so you can get dressed straight away or the creamy Milky Lotion enriched with aloe vera and organic fig extracts.
Always apply self-tanner on clean, moisturised skin and use occasionally for a subtle golden effect or more often for a darker tan. They'll become your all-season complexion companion.
For a guaranteed healthy glow all year round, use Radiance-Plus Golden Glow Booster Face. Just a few drops will do! It works like magic! In the palm of your hand, mix three drops of self-tanner with your Clarins facial products day and night to add some sun to your daily moisturising or anti-aging routine for a self-tanning effect 365 days a year!

Your skin tone will gradually tan with a made-to-order glow for the beauty of summer all year long! Apply evenly to the face, neck and décolleté area. The results are subtle and natural-looking, even on light skin!
06
Which self-tanner should I use to tan my body all year round?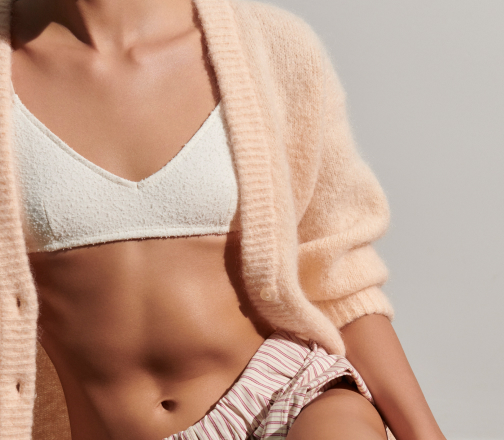 All of the Clarins self-tanning products, Instant Gel or Milky Lotion can be used every day. But for golden skin all year round without exposing yourself to the sun, mix a few drops of Radiance-Plus Golden Glow Booster for Body with the moisturiser or firming cream you use on your body. In a single step, you're adding a daily self-tanning action to your Clarins body cream or lotion. That's how Radiance-Plus Golden Glow Booster for Body becomes a part of your daily routine.
Moisturise and give your body a gorgeous glow in just a few minutes! A truly natural-looking tan, fast results that you customize, and works wonders on any skin tone. No more waiting for nice weather or trekking to the beach to get a tan!
07
How do I apply self-tanner?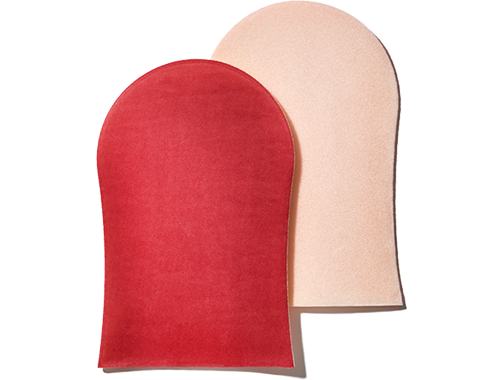 Exfoliate and hydrate your skin for a more radiant and even tan. For more occasional use, remember to use a scrub the night before you apply it. The usual way is to smooth it on gently, working quickly with a small amount of self-tanner at a time. Avoid the eyebrows and hairline. You'll need to wash your hands and nails thoroughly after application.
Use the Clarins Self-Tanner Body Applicator Mitt for an even tan and stain-free hands. This incredibly soft mitt is designed to help apply self-tanning products. It protects your hands and delivers flawless results. It's the essential tanning routine accessory for beautiful evenly golden skin without sunbathing!
Here's one of ur beauty tips: Wipe off your elbows, knees and heels because they take on more colour. Wait a few minutes before getting dressed as you would after applying any body cream. Clarins self-tanning products do not stain your clothing. A stress-free way to beautify and get a quick tan!
08
What are some tips for getting a healthy glow without a self-tanner or going in the sun?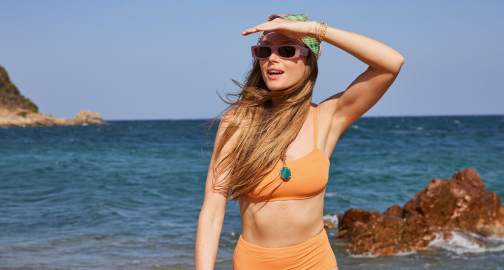 Our Clarins beauty experts have a little secret for anyone who wants a naturally tanned complexion without using a self-tanner or going in the sun! Every day, apply Bronzing Compact on your face or exposed parts of your body. Use a little
or a lot, it's up to you! Your skin will take on an instant glow. This bronzing powder is gently applied to give your complexion a sun-kissed look. There's a shade for every skin tone. Choose from three matte hues to achieve a customised tan. This formula is enriched with a botanical micropatch that locks in water on the surface of the skin to make it radiant. A glowy complexion any time you want. Look like you just returned from a holiday without hiding from the sun!
Which self-tanner is right for me ?
I'M LOOKING
FOR:
A product to
mix with my
usual skincare