Virtual EVENTS By Clarins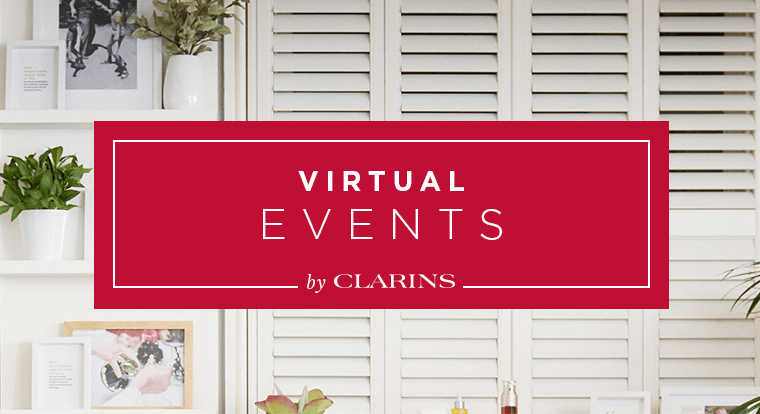 Join our Beauty Coaches for live interactive sessions.
The interactive sessions will feature tutorials, exciting collaborations and follow‑along rituals for you to do at home - the world of Clarins is at your fingertips.
Glow-Getters Masterclass

Wednesday, 23rd June | 6.00pm
60 minutes

Treat yourself to an at-home facial using a collection of Clarins favourites delivered straight to your door! Join our Clarins Skincare Specialist for a follow along tutorial featuring our must have glow getters, from gentle exfoliation to nourishing oils. Discover the secret to achieve healthy, hydrated, glowing skin from the comfort of your home. Your £10.00 booking fee will give you: Access to the event + a Glow Getter Mini's Kit complete with 11 samples to follow along at home.
Maximise Your Beauty Sleep

Thursday, 1st July | 5.00pm
30 minutes

Relax and erase a stress filled day from the comfort of your own home with our most coveted Beauty Sleep rituals. Our Clarins Specialist will guide you through a step-by-step facial that will soothe and hydrate the skin for overnight results. Using our unique facial massage techniques you will feel an instant release of tension, essential for a good night's sleep.
Make-up For Whoever You Are Today

Monday, 5th July | 12.30pm
30 minutes

Every day offers its challenges and triumphs and no two days are ever the same, so why should your make-up be that way? We'll share three natural, effortless make-up looks, each taking just 10 minutes and using a maximum of five products. Then you can choose which one fits how you are feeling today! At Clarins, our make-up is made for skin; plant enriched and skin care powered to deliver instant results and lasting skin care benefits.
Online Exclusives

Wednesday, 7th July | 5.00pm
30 minutes

Available exclusively at Clarins.com we have a wide range of products you won't be able to find anywhere else! Join us as we take you through some exciting skin care innovations, a few hidden gems from our make-up collections and deliciously scented products for the home.
Ask The Expert: Exfoliation 101

Tuesday, 13th July | 5.30pm
30 minutes

The secret to glowing, radiant and comfortable skin; exfoliation. Join us to learn all there is to know about exfoliating your skin from traditional scrubs to new exciting innovations. Our head-to-toe exfoliation workshop will give you all the tips you need to achieve silky smooth skin. You'll also have the chance to ask any questions you may have to our Beauty Coaches who will be on hand to share their knowledge and expertise.
It's All About Eyes

Thursday, 15th July | 5.00pm
30 minutes

Eyes are the window to the soul, and at Clarins we know the importance of a good eye care routine. Our Beauty Coaches will share with you the ultimate pampering eye treat before finishing off with an easy, natural nude toned eye look that features our NEW Lift & Curl Mascara.
Thirst Aid

Monday, 19th July | 12.30pm
30 minutes

Is your skin in need of some serious TLC? Clarins is here to rescue you. Discover our thirst-quenching blend of organic plant extracts that nourish the skin, our Clarins Expert will reveal their ultimate tips and tricks to boost hydration and eliminate dry, dehydrated skin for good.
Mixologie

Tuesday, 27th July | 5.00pm
30 minutes

Clarins Mixologie is the art of professional blending from our skin spas, direct to you. Join us as we take you on a journey into Clarins professional treatments and share with you the secrets of the spa! With tips from our Beauty Coaches to get the most out of your products and techniques and movements from our trained therapists that will be sure to deliver lasting skin care results.
Prep. Correct. Perfect

Thursday, 29th July | 5.30pm
30 minutes

The secret to a flawless complexion – a simple, three step application process. Join our Beauty Coaches to discover all the hints and tips to ace your base. We'll show you our colour correcting must haves and share insider knowledge on the best products for long-lasting wear.