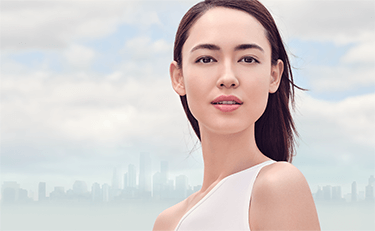 NEW
UV Plus [5P] Multi-protection moisturizing screen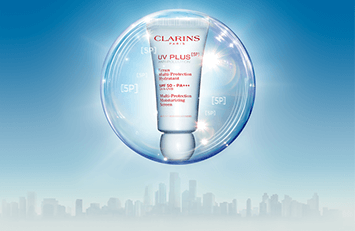 Revolutionary [5P] defense technology against 5 types of pollution
For healthy-looking skin
Protects the skin from harmful pollutants including blue light damage
Suitable for sensitive skin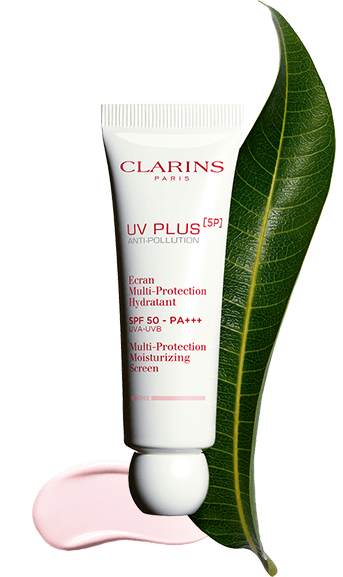 £33.00

86%*
UV PLUS protects
against all types of pollution
*Satisfaction test – 112 women – 28 days

5 pollutants?
1 solution
New UV Plus [5P] is the 1st UV & pollution screen* that protects against 5 pollutants encountered in everyday life:
Atmospheric
Blue light
Pollen
Photo-pollution
Indoor pollution
Our 5P defence technology, formulated with 74%** skin-caring ingredients, leaves skin hydrated and enhances its self-defence power by 64%***
*From Clarins
**Excluding filters, preservatives and colourants contributing to 26% of the formula.
***Ex vivo test on photo-pollution, measurement of Loricrine.
Protection you won't even know is there
This high-tech, high-performance gel cream is instantly absorbed by the skin. You'll love its lightweight, refreshing texture. Organic leaf of life extract helps to provide 8 hours* of nonstop hydration. Choose from 2 expertly created shades, suitable for all skin types: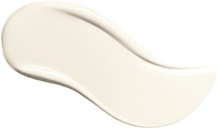 Translucent
perfectly invisible finish with zero white residue.
79% my skin is instantly hydrated***
84% my skin is more even**
*Clinical tests – 30 women – after 8 hours.
**Consumer test – 100 chinese women– after 28 days (50% of the panel self perceived to have sensitive skin)
***Consumer test – 100 chinese women– just after application (50% of the panel self perceived to have sensitive skin)

Mango leaf: The master of self-defense
The mango tree leaves secrete antioxidant molecules that act like a natural shield, protecting against UV rays and helping the tree survive in very hostile environments.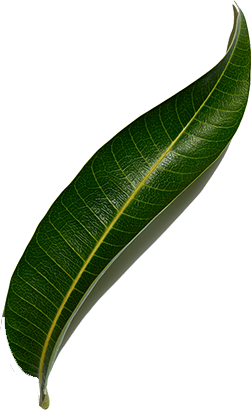 +
Close
Did you know ?
The mango tree's impressive stature gives it an important role in traditional communities, who gather under it to discuss, reflect, work and prepare food, safely sheltered in the cool shade of its leaves. Being an ideal place to escape intense sunlight and scorching heat makes this tree is a focal point of village life.
How? It initiates a proven 11.3%** increase in NRF2 within cells, giving the skin's antioxidant defense systems the official green light.
**IN vitro test – keratinocyte cultures
Tap below to discover your routine
Use UV Plus [5P] after completing your skin care routine and just before applying your make-up.
The key steps for your perfect UV Plus routine
Pollution's proven impact on skin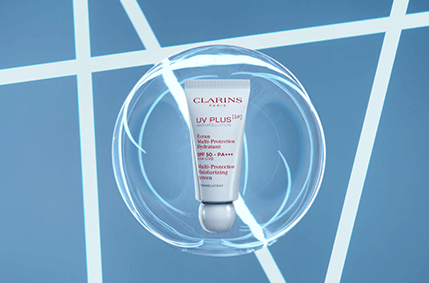 Pollution's proven impact on skin
At Clarins, we have been listening to and understanding the beauty needs of women concerning pollution since 1991. Now, through an unprecedented international study, we have analysed the level of exposure to major pollutants that people are facing all over the world, namely atmospheric and indoor pollution, pollen, blue light and photo-pollution.